Resistance Books is the publishing arm of Socialist Resistance. We publish books independently, and also jointly with Merlin Press (London) and the International Institute for Research and Education (Amsterdam).
---
Out now
WE THE INDIANS – The indigenous peoples of Peru and the struggle for land
By Hugo Blanco, with an introduction by Eduardo Galeano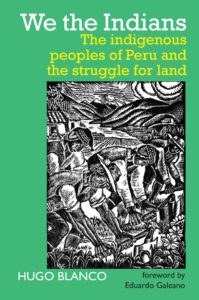 Foreword by Norma Giarracca
Translated by Leslie Ray
Published by Resistance Books, Merlin Press and the IIRE
Available April 2018, RRP £15.99p
ISBN: ISBN 978-0-85036-738-6
196 pages, with 12 b&w illustrations
For more information or to buy the book, click here
The story of indigenous peoples in Peru, and struggles for land reform and change from the 1950s and 1960s.
Hugo Blanco is a historic leader of the Peruvian campesino struggle and a key figure in the huge insurrections of the rural dispossessed. He was a key protagonist in the stories he shares in vivid but direct language. At the same time he gives voice to those who fought alongside him, while always advocating a respectful relationship with Pachamama (Mother Earth).
What they say about the book:
A red thread runs through these beautiful, scattered reflections, polemical interventions, autobiographical vignettes, and letters – Hugo Blanco's unwavering stand with the oppressed, and belief in their capacity for self-emancipation. Jailed, exiled, tortured, his spirit of sedition never seems to wane. From student militancy, to factory organizing, to mobilizing with the landless, Blanco's first political decades in Peru and Argentina set on course a long life of resolute antagonism to the tyranny of capital across several continents. – Jeffery R. Webber, author of The Last Day of Oppression, and the First Day of the Same: The Politics and Economics of the New Latin American Left Hugo
Blanco is an inspiration.
There are many lessons we can derive from the vivid tales narrated so accessibly in this book. – Derek Wall is a former principal speaker of the Green Party of England and Wales. His most recent book is Elinor Ostrom's Rules for Radicals.
---
Forthcoming titles
---
UNDERSTANDING THE NAZI GENOCIDE – Marxism after Auschwitz
by Enzo Traverso
New and enlarged edition
To be published Autumn 2018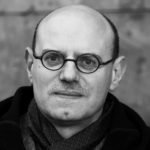 Enzo Traverso is an Italian historian who has written on issues relating to the Holocaust and totalitarianism. He worked at the IIRE from 1989 to 1991. His recent books include: Left-Wing Melancholia: Marxism, History, and Memory, Columbia University Press, 2017, The End of Jewish Modernity, Pluto Press, 2016; Fire and Blood: The European Civil War, 1914–1945, Verso, 2016; The Origins of Nazi Violence, New Press, 2003.
In this book, Traverso argues that after Auschwitz, Hiroshima and the gulag, the choice we face is no longer between the progress of civilization and a fall into ancient savagery, but between socialism conceived as a new civilization and the destruction of humankind. For Traverso the Warsaw Ghetto uprising is an image of what should impel us to rebel: not a sense of inevitable victory, but an ethical imperative.
---
OCTOBER 1917-2017
From a decolonial Communism to the democracy of the Commons: the 'Soviet century' – in the turmoil of the 'permanent revolution'.
By Catherine Samary, and with contributions from Franck Gaudicaud, Raquel Vaquera, Samuel Farber and others.
To be published Autumn 2018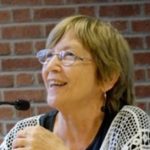 Catherine Samary is a co-founder of the Institute Espace Marx, a member of the scientific council of ATTAC-France. She has been a member of the Fourth International (FI) since 1963.
We are no longer in the context of the 'Soviet century'and we are witnessing various forms of transcendence of the organisations of the 'workers' movement' anchored in this era. Yet, while the political polarisations and crisis of civilisation (ecological, socio-economic, political) intrinsically associated with globalised capitalism unfold, the 'classic' strategic questions of the 20th century are reformulated in a complex fashion and, under radically new conditions, confront all organisations which remain convinced of the urgent need to 'change this world'.
---
FUNDAMENTALISM IN SOUTH ASIA
By Farooq Tariq, Achin Vanaik, Farooq Suhleria, Pierre Rousset, Mohiuddin Ahmad et al.
To be published Autumn 2018
The authors analyse nationalist and religious fundamentalisms in Pakistan, India, Afghanistan and Bangladesh. The rise of  religious fundamentalism is not confined to Islamic fundamentalism, as can be seen in India. The authors analyse and discuss these movements,  and discuss strategies of resistance.
---
MARXISM AND ECOLOGY
By Alan Thornett
To be published Autumn 2018
The environmental challenge we face is enormous. We have two or three decades to reverse global warming, end the use of fossil fuels, and create an energy system based on renewable sources of energy, and we have to do it with the framework of a struggle to end the capitalist system and create a sustainable socialist alternative. This book is intended to make a small a contribution to such a development.
The sections of the book cover: A planetary emergency; The development of the movement; Debates and strategies today; The Anthropocene, The struggle in Britain. Also included are previously published reviews and articles.
---
REDISCOVERING THE PAST
Early British radical texts by Thomas Spence, Thomas Hardy, Elizabeth Heyrick, Thomas Hodgskin, William Cobbett, WilliamBenbow, Standish Motte, Sussana Inge, et al.

Many individuals, organisations, and events played a formative role in the development of a radical tradition in 19th century Britain, but their memory was largely extinguished in the latter half of the century following the decline of Chartism and the emergence of Labourism. This book republishes material that would have been originally published in the form of pamphlets, manifestos, or magazine/newspaper articles. The texts are presented with an introduction and biographical information about the author.
---
TOWARDS A HISTORY OF THE FOURTH INTERNATIONAL
By Livio Maitan
Resistance Books and the IIRE are raising funds for the English translation of Livio Maitan's Per una storia della IV internazionale: la testimonianza di un comunista controcorrente. In this book, Livio Maitan (1923-2004) relates his experience of being a revolutionary communist during the second half of the 20th Century. Written by a leading member of the Fourth International and lifelong Marxist, the book is both testimony and an analysis of a 50-year period of great turmoil in Italian and international politics.
Help us publish this testimony of a 'communist against the current'. If you donate £40 or more, we will send you a copy of the book. For more information about the project and  how to make a donation, click here.
---
Recent titles
---
OCTOBER 1917 – WORKERS IN POWER
Authors: Paul Le Blanc, Ernest Mandel, David Mandel, François Vercammen, and contemporary texts by Rosa Luxemburg, Lenin, Leon Trotsky.
"October 1917: Workers in Power provides a stimulating starting-point for centennial reassessment of the Russian revolution. Paul Le Blanc provides a sparkling and authoritative survey of major historical studies; David Mandel expertly analyses workers' control in the Russian upheaval. Classic assessments of the October upheaval by Lenin, Luxemburg, Trotsky and more recently, Ernest Mandel round out this important addition to socialist literature on 1917." John Riddell.
Price £13.95 plus p&p. For more information and to order your copy, click here.
---
THE FAR RIGHT IN EUROPE
Authors include Michael Lowy, Phil Hearse, Adam Fabry and Manuel Kellner.
This book is analyses the far right in Britain, Bulgaria, Denmark, France, Hungary, Italy, Netherlands and Sweden. The survey, by activists and researchers, reveals a picture of far-right parties, some with a mass base, which have been able to drag the mainstream political parties to the right. This book is intended to be a contribution to understanding the nature of these far-right parties and of the threat we face.
Price £12 plus p&p. For more information and to buy the book, click here.
---
CONTACT:
Email: info@resistancebooks.org
Post: Resistance Books, PO Box 62732, London, SW2 9GQ