Resistance Books is the publishing arm of Socialist Resistance. Resistance Books publishes books independently, and also jointly with Merlin Press, and the International Institute for Research and Education in Amsterdam.
To contact Resistance Books:
Email info@resistancebooks.org, or write to Resistance Books, PO Box 62732, London, SW2 9GQ.
---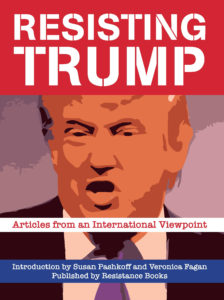 JUST OUT:
Resisting Trump

Articles from International Viewpoint

Authors include:
Gilbert Achcar, Linda Martín Alcoff, Cinzia Arruzza, Tithi Bhattacharya, Joseph Daher,  Penelope Duggan, Megan Erickson, Veronica Fagan, David Finkel, Nancy Fraser, Dan La Botz, Dave Landau, Malik Miah, Joanna Misnik, Kim Moody, Susan Pashkoff, Charlie Post, Michael Roberts, Pierre Rousset.
Published by Resistance Books
ISBN: 978-0-902869-19-6
Pbk, 106 pages
Includes 50 b&w photos and tables
Size: 210x297mm
Just £5 plus p&p. Order your copy here
Protests against Donald Trump have been mushrooming since his inauguration on 20 January 2017 – particularly in the USA itself but also internationally. The reaction in Britain has been particularly extensive with participation in the women's marches and actions against Trump's Muslim ban reaching into parts of Britain that demonstrations, particularly on international questions don't often reach.
International Viewpoint has gathered voices from around the world explaining the popular struggles against Trump and the business and political interests that have exploited his election.
---
Financial appeal to translate and publish Livio Maitan's Towards a history of the Fourth International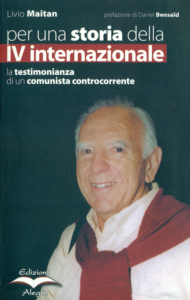 Resistance Books and the IIRE are raising funds for the English translation of Livio Maitan's Per una storia della IV internazionale: la testimonianza di un comunista controcorrente. In this book, Livio Maitan (1923-2004) relates his experience of being a revolutionary communist during the second half of the 20th Century. Written by a leading member of the Fourth International and lifelong Marxist, the book is both testimony and an analysis of a 50-year period of great turmoil in Italian and international politics.
From his early commitment to communism in 1942 under fascism in Italy, Livio chose to be "against the current" by rejecting both Stalinism and social democracy. Instead, he charted a course of democratic and revolutionary Marxism, which brought him to be a protagonist in the Trotskyist movement, including participating in its international leadership.
The tumultuous period described in this book covers events such as the break of Tito with Stalin, the Chinese revolution, the Soviet invasion of Hungary, the war of liberation in Algeria and Vietnam, and the Cuban revolution. The book also covers the period opened by May 1968, which saw massive mobilisations of students and workers in Europe and elsewhere, as well as the following years of neoliberal reaction and the fight to defend the gains of the workers movement.
Livio Maintan's analysis covers not only the events, but also details the strategic and programmatic discussions that the "new left" had to engage with as it was seeking to build an alternative.
The book is not just a political history, as Maitan looks for answers to the strategic and programmatic problems his generation faced as it sought to work towards a socialist alternative. A translation will be of interest to activists today seeking alternatives to a world of economic crisis and political turmoil.
Resistance Books together with the IIRE is publishing the book. Part of the work needed to publish the book is done voluntarily, but we need to pay for translation. We are raising money together with Resistance Books. To help pay for part for the translation cost, we want to raise 2,000 euros. The book will be published in 2018 to coincide with the 80th anniversary of the Fourth International.
We ask you to help us publish the testimony of a 'communist against the current'.
If you donate £40 or more, we will send you a copy of the book. Please send us your contact information to info@resistancebooks.org if you want to receive a copy of the book
In Britain, Donations in Sterling can be made out to:
By Bank Transfer to
Account name: Resistance
Bank: Co-operative Bank PLC
ByPaypal to resistance@sent.com (please state this is for translation appeal)
By cheque made out to Resistance (marked translation appeal) and posted to PO Box 62732 London SW2 9GQ
Donations in Euros to the IIRE

SOWS
Address: Postbus 1962, 1000 BZ, Amsterdam
IBAN : NL55INGB0001039161
BIC: INGBNL2A
Bank: ING (Postbus 1800, 1102 BW, Amsterdam)
Please mention 'Livio' in your transfer.
You can also donate using PayPal, paying to SOWSfoundation@gmail.com or via the IIRE website.
About Livio Maitan
Livio Maitan was born in Venice on the 1st of April 1923, and developed a passion for politics from his youth. In 1942, when studying classical literature (Greek and Latin) at the University of Padua, he became active in the anti-fascist resistance. In 1944 he was sentenced by a fascist court, escaped to Switzerland and had to spend several months in internment camps there before he could return to Italy in May 1945.
In 1947 he joined the Italian Trotskyist movement, of which he remained a leading member all his life. He was one of a small group of comrades who led the Fourth International during the difficult years of the 1950's and early 1960's. First elected in 1951, he remained a member of the International leadership until his death. From 1991, he was a leader of Rifondazione Comunista. Maitan died in Rome on 16 September 2004.
Livio Maitan wrote a great many articles and several books, including Teoria e politica nel dopoguerra, Milan, 1959; Pci 1945-1969, Rome, 1969. Dinamica delle classi sociali in Italia, Rome, 1975, Destino di Trotsky, Milan, 1980, Il marxismo rivoluzionario di Antonio Gramsci, Milano, 1987; Il dilemma cinese, Rome, 1994; Dall'Urss alla Russia, Rome, 1996, Tempeste nell'economia mondiale, Rome, 1998, La strada percorsa, Bolsena, 2002.
Livio's IIRE notebook The Long March of the Italian Communist Party can be downloaded from our site. A obituary of Maitan and a collection of English language articles can be found on International Viewpoint.
---
OCTOBER 1917 – WORKERS IN POWER
Authors: Paul Le Blanc, Ernest Mandel, David Mandel, François Vercammen, and contemporary texts by Rosa Luxemburg, Lenin, Leon Trotsky.
Edited: Fred Leplat and Alex de Jong
Published by by Merlin Press, the IIRE and Resistance Books.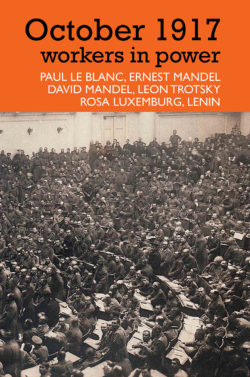 Out now for just £13.95 plus p&p.
Pbk, 256pp, ISBN 978 0 85036 727 0
Contents:
Making sense of October 1917, Paul Le Blanc
The stages of the 1917 Revolution, François Vercammen
October 1917: coup d'état or social revolution, Ernest Mandel
Economic power and factory committees in the Russian Revolution, David Mandel
The legitimacy of the October Revolution, David Mandel
The Old Mole, Rosa Luxemburg
To the population, Lenin
Letter to American Workers, Lenin
In defence of October, Leon Trotsky
Order your copy here.
What they say about the book:
"October 1917: Workers in Power" provides a stimulating starting-point for centennial reassessment of the Russian revolution. Paul Le Blanc provides a sparkling and authoritative survey of major historical studies; David Mandel expertly analyses workers' control in the Russian upheaval. Classic assessments of the October upheaval by Lenin, Luxemburg, Trotsky and more recently, Ernest Mandel round out this important addition to socialist literature on 1917.
John Riddell, editor of eight-volume documentary series on the world revolutionary movement in Lenin's time and ecosocialist activist.
For an objective study of 1917, not uncritical, but firmly rooted in the revolutionary tradition, this book can be unhesitatingly recommended.
Soma Marik, author of Revolutionary Democracy: Emancipation in Classical Marxism, Haymarket and IIRE (forthcoming, 2017).
This collection, containing both texts by participants and retrospective historical analyses, defends the achievements of the Revolution while honestly recognizing its limitations, and will stimulate informed discussion.
Ian Birchall, socialist historian.
This is an important collection celebrating the legacy of the Russian Revolution in its centenary year.  Paul Le Blanc's Introduction provides rich historical context for past events.  But the book is really about the future.  It is an effort to nourish the lessons of past such that they may irrigate new struggles of the future.
Tithi Bhattacharya, Professor of History, Purdue University; editorial board member, International Socialist Review.
A fascinating and unexpected collection of materials that shine a needed light on the workers revolution of 1917. All in all, a spirited defence of the October revolution at a time when many people would like to forget all about it.
Lars Lih, author of Lenin Rediscovered: What is to be Done? in Context, Haymarket 2008.
---
THE FAR RIGHT IN EUROPE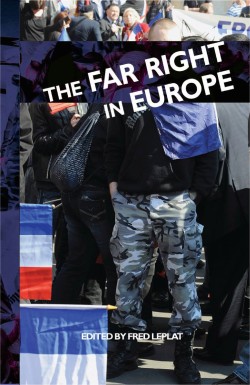 Authors include Michael Lowy, Phil Hearse, Adam Fabry and Manuel Kellner.
Published November 2015
Published by the Resistance Books and IIRE
Price £12/€18/$18
Edited by Fred Leplat
This book is survey of the far right in seven countries of Europe with different political histories: Britain, Bulgaria, Denmark, France, Hungary, Italy, Netherlands and Sweden. The survey, by activists and researchers from those countries, reveals a disturbing picture of far-right parties, some with a mass base, which have been able to drag the mainstream political parties to the right. This book is intended to be a contribution to understanding the nature of these far-right parties and of the threat we face.
For further information and to buy the book, click here.
---